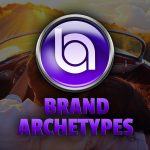 Amy is a graduate from Michigan State and Kevin from Michigan, it's obvious they are both fans of the Big 10…. But today we're talking about the Big Five. The Big Five Archetypes, that is. 
Those that get embraced most often by organizations using archetypes for their brand strategy.  Let's start by listing them.
Here they are in no particular order… 
Jester – Humor/Fun

Hero – Being heroic or energetically successful

Neighbor – Being easy-going/relatable

Mother – Caring and service-oriented

Guru – Being intelligent/wise
Why does it matter?
Well, for starters, these ideas seem to me like they're the most popular.  After watching hundreds of brands work their way through this process, I think this popularity is because people are drawn to the inherent power in each of these.
So, being powerful is one attribute of these five.

Of course, ALL the archetypes are powerful, but these seem to draw a larger crowd and we could make an argument that they are a wee bit stronger than the others – generically.

K 

It seems to me that these five are also the most straightforward to implement … whereas other archetypes (e.g. Explorer) are more nuanced and complex – so, are not as straightforward to implement.  
What about specific industries?
It seems like there are whole industries that are drawn to a single archetype and when we see this happen, it's almost always one of these five archetypes.  
Let's clarify a bit though.  When we say "a whole industry adopts a single archetype," we're NOT saying that 100% of that industry does so.  What we're saying is a reeeeally big chunk of the industry – like 60-70% or more have adopted the same archetype
The only example I can think of that doesn't quite fit this is the perfume industry where a good size portion has adopted the Lover archetype …. But the percentage isn't quite as high as the big five.

Here are some examples:
The Jester
Insurance companies (AFLAC, Geico, Progressive, Allstate)

Consumer packaged goods (M&Ms, Old Spice, Pepsi, MoonPies, Frank's Red Hot Sauce, etc.)

Used car dealers (I think this one has the highest saturation)
The Hero
SMBs – Business coaches, Career coaches, business consultants

Athletic products/services (Nike, Puma, UnderArmor)

Companies that provide speedy service (FedEx, DHL)
The Neighbor
Foods and beverages (Wendy's, Folgers, Dunkin')

Products/services that compete with Elitist or high-end competitors

Maytag (compare to Sub-Zero, Wolfe)

Charles Schwab (compare to Morgan Stanley, Fidelity)

Chevrolet (compare to Mercedes, BMW, Lexus)
The Mother
Health care companies of ALL types (hospitals, doctors, health insurance, health-related services, etc.)

Services that serve others, including non-profits (Habitat for Humanity, Salvation Army)

Consumer packaged goods that care for families (Dove soap, Campbell's soup, etc.)



The Guru
Companies that are compelled to point out their knowledge or experience

Attorneys (this one vies for the top spot of "most saturated")

Tech-consultants, Engineers, scientists – SpaceX, NASA

Information distributors – CNN, Wall Street Journal, GOOGLE
If you're still in the process of choosing your archetype, we hope this breakdown sheds some light on why other companies and organizations have chosen their own strategy.
A word of caution: DON'T (and I can't emphasize this enough) choose your archetype because others in your industry or, worse yet, your competitors have done so.  This is a HUGE mistake!!!
Competitive advantage is a big deal and the quickest way to get away from direct brand competition is to just use a completely different approach.  In fact, picking something different gives you a great way to successfully pit yourself directly against your competitors.
---
THE WRAP-UP
This is one of those topics that was not obvious to many people when the archetype concept was first created.  This kind of trend is only visible when you start evaluating hundreds of brands over time and you are able to track trends.  SO, if you think we've missed anything OR if you think there's a branding trend we should be tracking, please let us know!
---
Marketing Mayhem