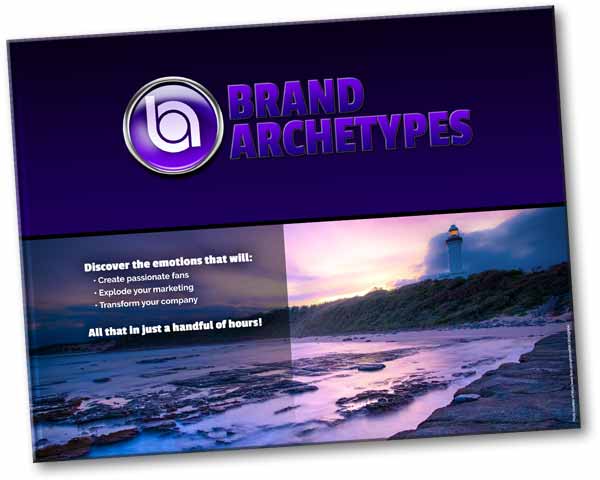 STEP ONE — Get the Book
When we first started offering brand consulting services, there were TONS of books and online resources on the topic, but the subject was, at best, nebulous.  The process of becoming a student of brand strategy was difficult indeed. After over two years of studying the topic, I picked up a book called The Hero and the Outlaw.  The book proposed the concept of using Jungian Archetypes as the basis for building corporate brands.  It's an amazing book and we recommend that you get a copy.  However, it doesn't really offer a step-by-step process of how to apply these ideas in a practical way for businesses.
We immediately started building our own processes and, after over 14 years of applying these powerful ideas in the real world, we've distilled the process and have outlined EVERYTHING we've learned in one book!

Brand Archetypes gets clients' results, they did for us! The Brand Archetype survey and work session gave us clarity, alignment with our team
and confidence to move forward in our marketing messages. The process was simple yet significant. Prospects and people who work with us better understand what we do and how we do it because of the amazing Brand Archetype process with Kevin and Amy.
Michael B. Harrison
Vice President of Academic Affairs
Great Lakes Christian College
STEP TWO — Take the Questionnaire (it's FREE!)
In the book, you'll learn ALL about archetypes and you'll likely get a strong sense of which one might be best for you.  But, how do you actually decide on which archetype to pick?  Although we can't make that important decision for you, we can nudge you in the right direction.  Have your entire team take the questionnaire and we'll automatically generate a report to see how each team member replied, their view of your brand and, here's where it gets interesting, we give you a list of all the archetypes (in order) based on your team's answers!
This free questionnaire is comprised of 96 questions and will take each team member about 30-35 minutes to complete.  The results are always enlightening and completing the questionnaire is one more step toward your future amazing brand strategy.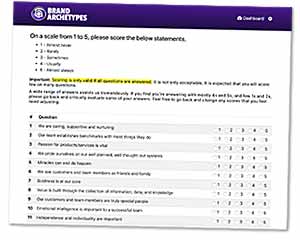 After going through the brand discovery experience I had clarity on my direction for my coaching business. Kevin and Amy helped me determine the emotional connection I wanted to make with my clients through my new brand strategy. The process was easy to understand, fun, and valuable. In addition, they worked with me to instill my new brand into every aspect of my business. I have a clean, clear path for my marketing and branding and everything is so much easier and more powerful now. I highly recommend that businesses discover their brand archetype with this company — it is well worth the investment.
Coach, Lisa Fisher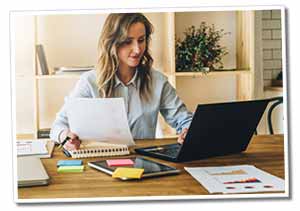 STEP THREE — Evaluate Your Current Brand
At this stage, you've selected an archetype and you're likely suuuuper excited to apply this newfound knowledge to your company.  It's time to take a dive into the weeds ... to get your hands dirty and evaluate what's working and what's not.
You'll pull out every piece of business collateral you've ever created and will look at it with a fresh perspective.  How consistent have you been? Are your color selections within brand? How about your use of color? Are you using words that reinforce your brand or did you ramble on-and-on about yourself, your company and your products/services?  There's a lot to consider but you'll have a new internal compass guiding you onto a much more powerful path.

Working with Kevin and Amy on brand discovery, social media management and rebuilding our website has made a significant difference to our business.  We didn't know where to begin or what questions to ask and the brand archetype model helped give us focus and clarity.
Definitely well worth the money spent!
Bill Anderson
Bitzenburger Fletching Tools
STEP FOUR — Refine Your Brand Process
Once you make an archetype decision, evaluate all your brand/identity elements and have taken steps to amp up the power, your job isn't done.  How do you train your current employees? How will you onboard new employees so they understand your new strategy? Who will be responsible for keeping an eye out on a day-to-day basis?  Who will be your brand evangelists?
We can not only guide you with this process we are also available to help you with any and every step.  If this journey isn't exciting and fun for you, then we simply didn't do our job.
So, are you ready to take the leap?