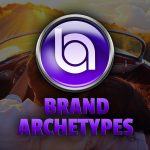 Kevin is doing a happy dance today because are talking about Marketing the Jester Archetype. If the 12 archetypes were children and Kevin had to pick his favorite it is definitely The Jester.
As we have been saying all along, the key to making any archetype work is to embrace it fully. Kevin definitely lives and breathes the Jester. You won't find a better expert on all things wacky and zippy.
Marketing the Jester Archetype
For a deeper dive into exactly what the heck the Jester is all about, including the sub-archetypes, check out THE JESTER page on our website. Also, listen to our previous overview episode Episode 11 – The Jester Archetype.
The main points we make in this episode about marketing the Jester archetype include:
Fully embrace the Jester. It will never be enough to just be "kinda funny."
Don't tiptoe up to the line of decency. C

areen, head first, past that line! … screaming like a banshee, hair on fire, wearing your pink tutu, whooping it up like there's no tomorrow.

Do not simply be wacky for the sake of being wacky.  Instead, you're strategically choosing wackiness as a part of building relationships.
ANYTHING goes! 

BE RUTHLESSLY FUNNY!

Words. Use high-energy words, swear words, made-up words, misspelled words, incorrect grammar, and

onomatopoeia (zoom, pop, bang, zip, woosh, kerpow, etc.)
The Mashing Up of Unrelated Ideas
You luck out today, dear readers and listeners. Kevin imparts some wise words of wisdom that can serve you well in not just your marketing, but in life as well. A really effective strategy to keep things interesting (and jestery) is to take two seemingly unrelated ideas and put them together or juxtapose them for an entertaining result.
For example – Let's take two disconnected ideas: 
1 – A monkey might be smart enough to do things on our behalf

2 – The trunk of a car can be used to store stuff
Mash these two ideas together and you get "The Trunk Monkey" … a fabulous series of commercials created by The Suburban Auto Group.  Click HERE to see them. 
Listen to the entire episode to hear about Kevin and Amy's ideas about job titles, and how they came up with theirs.
Could you be a jester?
Questions? Call us! If you're trying to be The Jester and have questions for us, please reach out to us!  — or to Kevin! He'll chat your ear right off. We'd love to chat.
Word Lists: $29.95
Follow us on Facebook, Twitter, LinkedIn