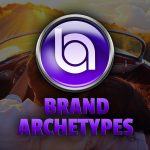 For the first time, Kevin and Amy interview a business owner who has been through the entire Brand Archetype process.
Meet Dana Ritchie
Dana Ritchie is the owner and CEO of PaladinID in New Hampshire. His company develops and supports high-performance bar code labeling applications. They work with businesses to "Make Your Mark" by providing the expertise and tools necessary to create an entire product label printing solution.
Find out how a company name change and re-brand using the Brand Archetypes strategy elevated Dana's company into the big leagues.
What archetype is PaladinID?
Hint: It's in the name!
Do you know what a Paladin is? Find out as Dana explains why they chose that name and what it has done for his business.
Up Next: Episode 24: How to Pick an Archetype