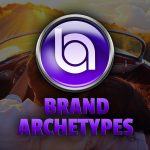 Join Kevin and Amy as they get "sultry" and "passionate" about ideas on how to market the Lover Archetype. 
If you are wondering what archetype your company might be, take our FREE QUESTIONNAIRE. It's the first step in discovering your Brand.
Passionate Brands
Think of a person or a company who is really passionate about what they do. How do they talk about it? What words do they use? How do they express themselves?
What's the level of trust you have with them, on the subject of their passion?
Has this person, because of their passion, garnered a high level of trust and has risen to top-of-mind status with you?
Our first episode about The Lover was way back in mid-February of 2020.  If you'd like to hear our introduction to the archetype where we talk about the nature of the archetype and to get the gist of it, be sure to go back to episode 15 and catch up.
Where that episode introduces the concepts underlying and permeating the archetype, this one talks about your approach to marketing with it

The big idea is PASSION
Passion of all flavors and types

Passion for just about anything, tangible as well as intangible

If you're intensely passionate about your product/service, your company, serving your customers, learning more about your industry, again, anything … then, this archetype might be right for you.
Another important idea, although subordinate to the concept of passion, is the idea of strong relationships.
As usual, we have two sub-archetypes.  Each one has a completely different flavor.
The first is called The Gigolo – This one focuses on sexual passion. Think about any number of fashion products that use sex to sell. Perfumes, Alcohol, dating apps. That sort of thing.

The second is called The Cupid – This one focuses on romantic passion and includes brands that are truly romantic by nature, but also includes brands that promote passion of all types that are non-sexual in nature.  For example, Moody airplanes, years ago, had a lengthy campaign that focused on the passion for flying.  If you know a pilot, you'll understand how natural this approach is.
Marketing the Lover Archetype
Listen in as Kevin and Amy find captivating ways to make lawnmowers seem sexy, truly demonstrating that any archetype can work for any industry, product, or service.

PRO TIP: If you and your team aren't meeting regularly to come up with marketing concepts like this on a regular basis, then you're missing out.  Even if you only use 1 in 10 of your brainstorm ideas, the exercise itself will train your team to think and BE within your brand.  The more you get your entire team to do this, the stronger your brand will become, over time.
A WRAP-UP
If you're feeling the love … if you've got a passionate drive burning inside you … you might still have questions about how to get started.  We would LOVE to talk to you about your marketing projects and how you can be a better Lover — in marketing, of course. 

Head over to BrandArchetypes.com to find out more.

Follow us on all the social media @BrandArchetypes