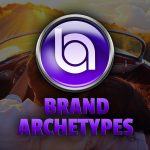 Naming a company can be a painful and laborious process. There is a lot of pressure to secure a good one — and you have to love it because you are going to be saying and writing it many thousands of times for years to come. It's kind of like naming a child or, to a lesser degree, a pet.
Naming a Company Can Be Super Hard
This is why this podcast has 2 parts!  There's simply a lot to consider.  Often, entrepreneurs don't spend enough time or put enough thought into naming their business.  Your brand and chosen archetype should definitely be considered and factor into the name you choose.
In addition, have you confirmed if the URL and all the social media accounts are available for your name?
Kevin and Amy discuss how to choose a powerful name that will be easy to remember and defensible. There are definite pros and cons for naming a company. It is possible to be way too generic or way too complicated — both mistakes and will lead to a name that's difficult to remember or not supportive of your brand strategy.
Check out Kevin's Rules on "How to Find a Great Domain Name"
Does your company name pass the "Little old lady test?" Listen and FIND OUT!  (at 19:30)